Last week was one that was so full of clichés that I thought my head was going to explode and fire was going to spew out of my mouth.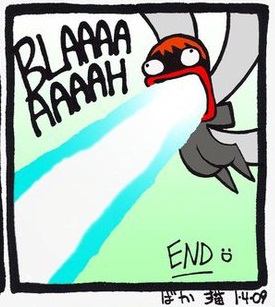 We had worked our patooties off to get our house on the market and found one that we loved closer to work and school. We allowed ourselves to become attached to it and after the owners accepted the offer, began to plan what colors we would use for each room, what furniture would fit where and so on. My brown-eyed girl had begun to refer to the corner hallway ledge as "Fort Laggie".
Then the bottom dropped out. Someone from out of town offered cash for the house of our dreams. Because there was a contingency in the offer, the owners accepted the cash offer. The house was gone. For the second time in her life, my little girl experienced an adult problem. She was devastated as were we. She cried herself to sleep every night and we tried our best to comfort her to no avail. We simply had to do our best and let time be the healer. This weekend we went to our annual karate seminar which is always a blast. This helped her tremendously. She's growing and learning to surrender.
Rewind to one year ago. I had approached the head of a massive only niche group and asked for her help in publicity for not just Jupiter Chronicles series but an animated short. No response. It took some time for me to find a studio who would work with me on the project and thankfully I did. But before I was able to get my crowdfunding campaign going I found out that she had started her own using the same idea. I was mortified and shocked that someone would actually do something like this but as I've been told, it happens. I cried and screamed in my car on the way to work.
There was more angst that had made its way through our home last week through other means that I can't talk about in a blog but needless to say, my sweet wife also had to find the strength to surrender.
Between those incidents and the sickness we were dealing with in our home we were very close to a breaking point. Enter the clichés. You'll get a better house. It's all for the best. This too shall pass.
I'm just as guilty of this as the next person, mind you. I've tried to fix the woes of others by offering a word of advice but here's the problem with that. I didn't want it. All I wanted was for someone to say, "I love you and I'm here for you." That's all. People mean well but sometimes there just aren't words that can heal.
Unless you happen to go to Lowe's to buy paint.
I was at the checkout counter when the cashier welcomed me wholeheartedly. He was overly-friendly to the point where I wondered if he was special needs. Then he started to tell me about his brain surgery and he took his hat off. He had a deep scar going from the back of his head to the front. Part of his head was caved in.
I had no choice but to surrender. Now by "surrender" I do not mean give up. I do not mean that I've resigned myself to thinking that it's all on its way downhill from here. It does not mean that I run. It simply means that I came to the realization that I had nothing to complain about. My family is still together and we're still alive. Things could be a ton worse for us and there are people who are going through a ton worse than us.The rest of it can wait. We win by getting back up after a beating and no matter how many times we get beat down we rise again and why?
Because we surrender. It's not our problem. It's God's problem now. It's in His hands.
Surrender is an act of courage and is good for the soul.
Chat soon,

Leonardo Ramirez is an Author of Children's Steampunk and YA Fantasy. Click here for a list of books available!