Kevin Steil is a great guy who runs an award-winning Steampunk blog called the "Airship Ambassador" which highlights literature, movies and events that fall under the Steampunk genre.
You can visit his website here.

Steam·punk is a genre of science fiction that typically features steam-powered machinery rather than advanced technology.
Kevin has an annual project titled, "Steampunk Hands Around the World" which in his words, is an "annual global blogathon where steampunks from around the world share the great things in our community to let people know that steampunk isn't limited to their city or state or country. Steampunk is everywhere and no matter where we go, we'll find fellow steampunks to share with."
This year's theme is "My Favorite Things".
Here is mine.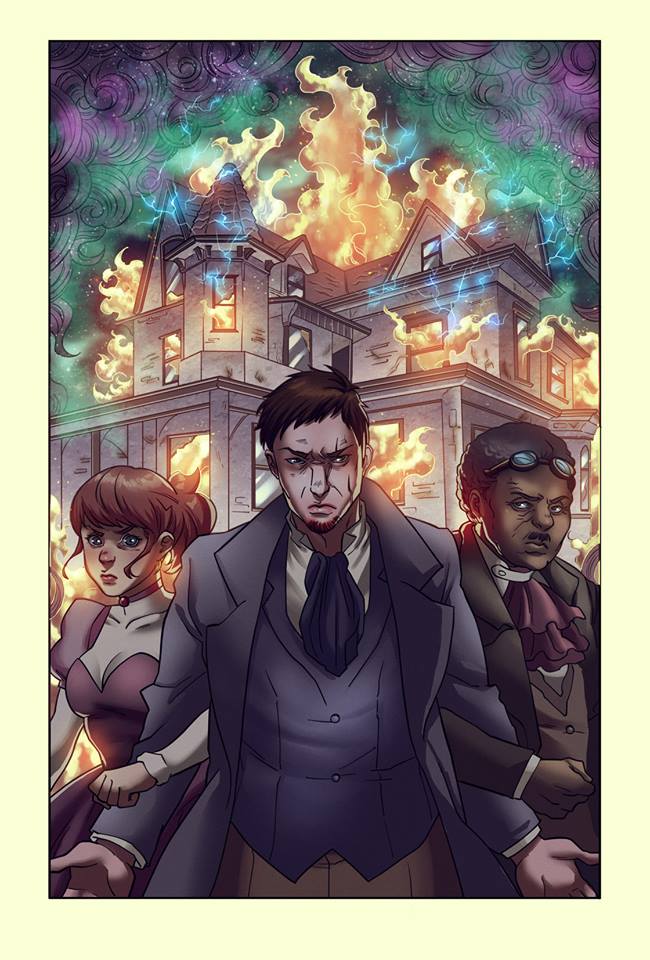 Boston Metaphysical Society is a story revolving around several well-known figures in our history including Thomas Edison, Alexander Graham Bell and of course, Nikola Tesla who are joined by fictional characters Samuel Hunter and Caitlin O'Sullivan as ghost hunters at the turn of the century. The series, written and created by Madeleine-Holly Rosing with art by Emily Hu, started out as a webcomic and through six successful Kickstarter projects has been able to launch a series of graphic novels (chapters 1-6). It is Ms. Holly-Rosing's hope to continue the stories through prose novels beginning with "Prelude."
I've read the graphic novels and they're wonderful. But aside from the beautiful art and intriguing stories and settings, one of the reasons I like them is because they're a testament to originality in this world of reboots and sequels. Sure, some of those have turned out fine but here is a series that is begging to be on the big screen.
So instead of a Ghostbusters reboot, why not Boston Metaphysical Society?
Come on, Hollywood!
Chat soon!

Leonardo Ramirez is an author of Children's Steampunk, Speculative Science Fiction and a graphic novel. He is also a husband, father and a 3rd degree Black Belt in American Karate. You can visit his website, Science Fiction for the Human Condition at Leonardoverse.com.
[mc4wp_form id="5755″]
[email_link]