We wanted to thank Debbie Noland of the Nolensville Food Pantry for partnering with us in the BUY A BOOK FEED A FAMILY CAMPAIGN. In light of that, I thought it would be nice to give her a shout out and share a little something that those in the community did not perhaps already know.
Here is a Partner Spotlight: The Nolensville Food Pantry, Interview with Debbie Noland
What prompted you to start a Food Pantry in the wealthiest county in Tennessee?
I didn't personally start the food pantry. Two ladies from Providence Baptist Church, Patty Martin and Wanda Castleman started it nearly 9 years ago. They felt there was a need and God was leading them in this direction, at the time we had no idea that it would turn into such a blessing to our church and to the ones in the community that were in need. Questions were asked, why here, we are in Williamson County one of the wealthiest counties in the state, but they continued with what had been put on their hearts. It started out in a small white cabinet that you buy at the local hardware stores. It was housed in one of our church members garages. At that time we kept pre-packed boxes ready, so it would be easy to go by and pick one up and deliver to a family in need. In 2010 Providence moved into the property at 1668 Sunset Road. On this property was a house. We converted the house into offices, student area and the dining room in the kitchen became the new home to the Nolensville Food Pantry. We still keep a few packed boxes, but now families can come in and shop for what they need.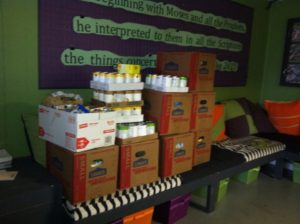 How many families does the Food Pantry Feed?
This number varies from week to week and from month to month. Some weeks we may have a couple of families and some like this past week we had twenty. The start of the school year is always a busy time. I am sure this is due to families trying to buy supplies for their children. Over the years we have tried to keep the basic school supplies also for this time of year.
Of those families, how many are children? We serve many families with children. We also help different groups/families with backpack ministries in our local schools. We supply the food and they package and deliver it to the schools.
Why is this important to you personally? Well, we all have been there, that time in your life when you are just trying to make your house payment and pay the utilities. During hard times there is not much left for food.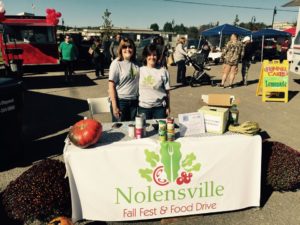 Are there any plans to expand? Right now, we do not have plans, but that does not mean we don't have dreams of expanding. We would love to one day to be able to have a pantry that also has frozen and fresh foods. Many grocery stores will donate bread, milk, meats close to the expiration dates that can be frozen. As Providence grows, we will be able to expand into other parts of the church office.
What kind of donations do you accept? We accept nonperishable items as well as monetary donations. We always say that even one can or dollar can make a difference. No donation is too small. We love opening up the brown box outside and finding a bag of food and encourage families to donate things they like to eat, this helps us have a variety. Often we get an item, and the first thing we think is, nobody will ever want/need this, and someone always comes in and says, "I love that!"
What is the most challenging aspect of running a food pantry? Not knowing how many will come through the doors. Life happens, most families never expect to be in need of food, and when they are, we try to be prepared and help them feel comfortable while they are shopping.
Are there any times of the year where there is more need than others? We always have plenty of food during the holidays because that is when those in need are on everyone's minds. There are many churches and organizations that do fundraiser/food drives for us throughout the year and those help us during times when food is coming in slowly. I have never seen a community so willing to give.
What specific event has impacted you the most while serving the Nolensville Food Pantry? This one is hard. I guess the one thing that touches me the most is when a family that we have helped turns around when they get back on their feet and returns the blessing by donating to the pantry or working in the pantry. They get it and understand anyone can go through a hard time.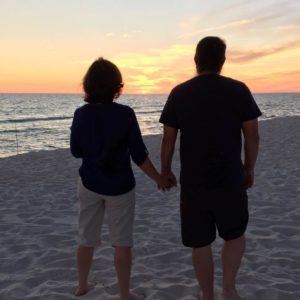 What do you enjoy most out of serving the Nolensville community? I love getting to work with the community. The people of this town have the heart for those in need and because of this the Nolensville Food Pantry gets to see families blessed every day.
A huge thanks to our friend Debbie for partnering with us. The Buy a Book Feed a Family Campaign ends on April 20. In raising funds to publish the third books in a kids series, we will be sending a portion of the proceeds to the Nolensville Food Pantry. There is a $10 raffle available to Nolensville residents for a chance to win gift certificates to Mama's Java, Outlanders, the Nashville Symphony and more!
Click on the campaign below. The campaign closes on Thursday, April 20.
Thanks so much. Chat soon!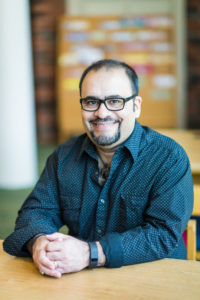 Leonardo Ramirez is an author of Science Fiction and Fantasy. He is also a husband, father and a 4th degree Black Belt in American Karate. You can visit his website, Science Fiction for the Human Condition at Leonardoverse.com. His books are available for purchase on Amazon, Barnes & Noble and other retailers.
[mc4wp_form id="5755″]
[email_link]