The Jupiter Chronicles saga continues!
In the tradition of "City of Ember" "A Wrinkle in Time" and "Star Wars", this family adventure is a high stakes space race to save our world from an invading force before it is too late.
The Jupiter Chronicles Book 3: The Orb of Terra
-Book 3-
Will Ian's quest to find his destiny away from Jupiter lead to Earth's untimely demise?
As he struggles with his identity, Ian Castillo helps one of Earth's greatest scientific minds, Dr. Nikola Tesla, make the scientific discovery of a lifetime: a strange mineral that can perhaps power our world for years to come! They discover it is not just an energy source, but something much more! When the device powered by the mineral is activated, it awakens a sleeping giant buried under the Earth by the Martians generations before. The beast known as "Gigantes" leaves behind a trail of destruction and calls out to a deadly enemy headed for Earth.
FIND YOUR DESTINY.
Cover by Eve Milady and Ben Fosselman with Magnetic Dreams Animation Studios (Iron Man:Extremis, Thor & Loki: Blood Brothers, Sesame Street)
Preorder on Digital Now!
Book Information:
Title: The Jupiter Chronicles Book 3: The Orb of Terra
Publisher: Leonardoverse Books, Nashville, TN
Format: Paperback / Epub / Mobi
Publication Date: November 17, 2017 (Print) eBook: Preorder now

Author: Leonardo Ramirez

ISBN-13: 978-0615738826

ISBN-10: 0615738826

Pages: 267
Available for Preorder (Digital) Now From:
Chat soon!
~Lenny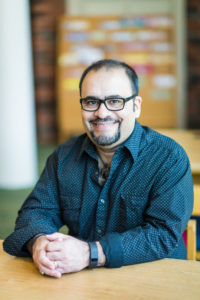 Leonardo Ramirez is an author of Science Fiction and Fantasy. He is also a husband, father and a 4th degree Black Belt in American Karate. You can visit his website, Science Fiction for the Human Condition at Leonardoverse.com. His books are available for purchase on Amazon, Barnes & Noble and other retailers.