My brown-eyed girl just started Middle School and with that comes all kinds of changes including school dances, lockers, etc. She had a great first week and I'm so glad for that. The transition has been wonderful so far. But as she moves into this phase of her life I'm finding it more and more necessary to maintain an open channel of communication with her. She's always been fun to talk to. We still do talk every day but the tone of our conversation has taken a new twist but I'll explain that in a minute.
After my wife and I went to open house and listened to her new social studies' teacher spiel he quickly hit on something; the study of the "four major religions". Since he did not mention what the four were I thought I'd go in and take a look for myself. I asked him how deep they go into these and he responded by saying that the coverage was very basic.
Not necessarily.
The religions covered in Scope and Sequence Guides  are Buddhism, Hinduism, Judaism and Islam and they are all covered pretty extensively at least at first appearance. They chart below may give you an idea as to why they were chosen. Oh, and see if you notice anything missing from the list of the "four major religions".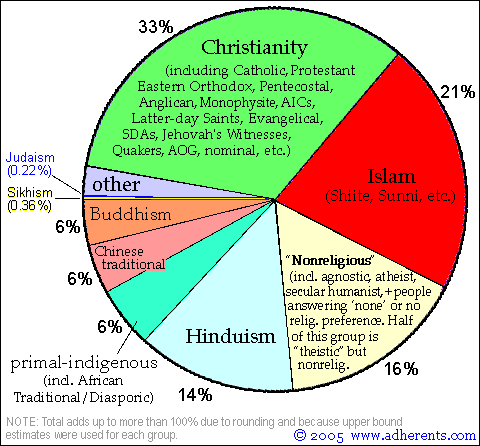 As I told my daughter last night, it is always good to learn as much as possible about everything as much as possible.  I'm not afraid of learning and I want to instill that into my daughter. Nor will I teach her to be afraid. To the contrary, I want her to always be confident in who she is. Religion has always been something that is personal and in my opinion should be left with parents to guide their kids through. Through transitions like going into Middle School, kids have enough to worry about and don't need seeds of doubt planted in their minds about who they are and what their parents believe at such a young age.
Or is it?
We as parents always have been and always will be the ones responsible for guiding our children. And here we have a great opportunity as parents  to talk to our kids about world religions! That's always a good thing!
That is IF parents will take the time to study them and talk to their children about it.
No matter what you believe, draw near to your child. Let them get the whole story from you. Don't leave their upbringing to someone else. Your children were given to you.
Chat soon,

Leonardo Ramirez is an author of Science Fiction and Steampunk. Visit Leonardoverse: Science Fiction for the Human Condition.