Hi All!
So we are officially at the halfway point in our 30 day 'Buy a Book Feed a Family' campaign. We started out of the gate with some wonderful contributions from great folks who have been super supportive and because of them we're above 73% of goal. Because this means so much to me I wanted to send them a shoutout of thanks!
Carol Weisenfelder
Jody Hodges
Jay Watson
Amber Mohr
Stephen Oats
Jeff Jackson
Rick Barker
Melissa McLaughlin
Stephen Woollard
Magda Underdown-Dubois
Ron Ragsag
Tony and Shelley Exler
and
David Kendall
Thank you SO much!
Please continue to share the campaign and this is why…
Once we reach our goal, we will remain on the Indiegogo platform as an open campaign indefinitely. This means that millions of people will see the project and may continue to contribute to it. In time, I will add a stretch goal that will include an animated film short for pitching by Magnetic Dreams. Mike Halsey has expressed a solid and proven interest in developing both this and Haven of Dante as pitches to distributors. All we need is an audience that wants it and using the Indiegogo platform will enable us to garner that audience. But just in case you're unfamiliar with Magnetic Dreams, they are the studio behind, Sesame Street, Iron Man: Extremis and Thor & Loki: Blood Brothers.
You can catch the trailer for Iron Man: Extremis below.
So for my readers, I'm offering all three books in The Jupiter Chronicles series AND I'm throwing in both the prose novel of Haven of Dante as well as the comic trade. All for 10.00. These are all in digital form and are only available if you click on Secret Perk.
The link will expired on April 20.
So share the campaign! Thanks in advance!

Chat soon!
~Lenny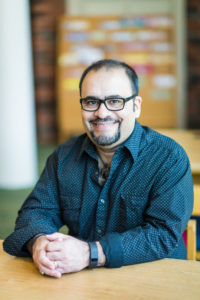 Leonardo Ramirez is an author of Science Fiction and Fantasy. He is also a husband, father and a 4th degree Black Belt in American Karate. You can visit his website, Science Fiction for the Human Condition at Leonardoverse.com. His books are available for purchase on Amazon, Barnes & Noble and other retailers.
[mc4wp_form id="5755″]
[email_link]