Getting married was just plain fun. Having our first child was life changing. But this Saturday was probably one of the most emotionally exhausting days I've had a in a long while. We came to the Nashville area ten years ago having no friends or family here. The way we chose this area was by prayerfully opening up an atlas and dropping my index finger on the map. I remember having seen a Food Channel special on Pancake Pantry having some influence (I love pancakes). Our daughter, Mackenzy, was 8 months old.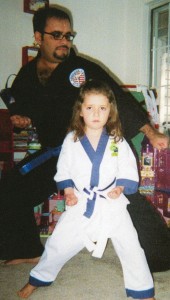 Because of an assault that my wife endured I had always set in my mind that if we had a daughter, she was going to study karate and I couldn't wait until she got started. Three years and a few short months she did just that. I remember being worried about whether or not she would enjoy it but from day one she was hooked. I didn't have to worry if she was going to stay or not and by the picture to the left you can tell she dragged me along with her. It wasn't hard.
That was 8 years ago.
Since then she's tried other things. With soccer she would end up stopping mid-game and plopping herself down to pluck the weeds out of the field. Basketball didn't last long either. She always came back to karate. My wife joined not too long after. We've grown together as a family in the martial arts. But what means the most to me as a dad is watching her grow in so many ways. She has a beautiful confidence that shines through her big brown eyes. She has a humility and a sense of giving that brightens any room through her beautiful smile. And she has a joviality that conquers all fears. That's the joy she brings not just to the dojo but to everyone she meets even in the harshest of circumstances.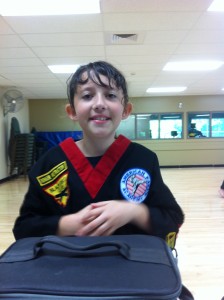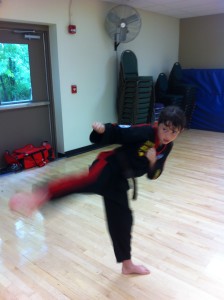 Her test began at 10:15 AM on May 11th and being a part of the black belt staff I got to watch some of her test. I had to try and suppress (and failing miserably) the anxiety I was feeling at watching her throw so many blocks, kicks and punches as she smiled at me through her matted hair. I wanted so badly to reach out to my little conqueror and replace the sweat-drenched gi top she wore that became even more heavy with each passing hour. She pressed on heroically.
There was a point in time where she seemed exasperated and still I had to suppress the daddy-the-rescuer instinct and encourage her to go on fighting.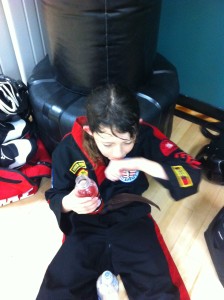 It was right around hour #5 that I starting praying for the test to be over with. Not very many people get to stand there and watch their child battle through a grueling 8-hour test. I prayed for her in my mind the whole time while Kristen prayed for her at home.
To get to this point was not easy for her. There were many nights where she had to stay late because of the adults class and she had no place to go or she had to still go home and finish a pile of homework or study for a test.
But over 7 hours later, she won the fight. This is a post that I'm not writing for me or even for anyone who would take the time to read it. I write this for her. I want her to know in her heart that I know how hard it was for her and how proud we are of her. I want her to know that she can finish whatever she sets out to accomplish. More than anything, I want her to know  in her heart of hearts that (as Grandmaster Chapman says) "once you set your mind to it, nothing is impossible."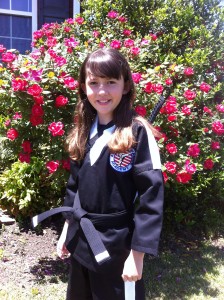 My daughter, my Mackenzy, our jewel, I want you to know that Mom and Dad love you with every part of our being and that now and forever we will always be proud of you.
You are my favorite superhero.

Leonardo Ramirez is an author of Science Fiction and Fantasy. Visit Leonardoverse: Science Fiction for the Human Condition for more info.You can support his work by purchasing  The Jupiter Chronicles, now available for 5.99. Click here now to buy.