Hi All!
As I've mentioned prior, we've joined forces with the animation studio, Magnetic Dreams to bring to life the characters of The Jupiter Chronicles. And with that, of course, comes new covers for both books one and two which had released previously. Eve Milady and Ben Fosselman have created a masterpiece cover that rounds out the the first trilogy in the series.
So here are all three!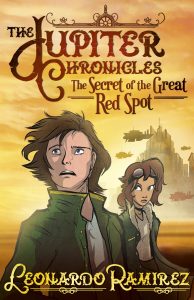 Book 1
It is the year 1892 and Ian and Callie Castillo have had to suffer the hardships of a single parent family since their father went missing five years ago. Since then, Ian has refused to use the last gift that his father left the wounded boy; a telescope that sits collecting dust in the attic.
When Callie decides to peer through its murky lens, it activates the device and sends the Castillos to the steam-powered floating cities of Jupiter where they discover the secret behind their father's disappearance. But can they uncover the secret behind the Red Spot and save the Jovians before the Martians launch their attack?
Where to buy: Amazon / Barnes & Noble / iTunes / Kobo / Scribd / ink terra / 24Symbols / Smashwords / Playster/ Google Play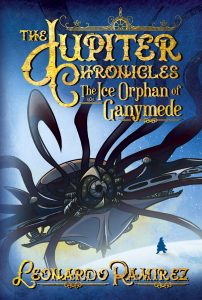 Book 2
The war has been won, the Jovians are free of the tyranny of Phobos, but the planet now lies in ruins. The Sinu and the Fiegan Firelords are threatening a civil war and the people of Jupiter are going hungry. First Petros has failed as their protector and General Ardor wants him replaced. To make matters worse, the Castillos face a new challenge. Ian is sick and no doctor on Earth can help him. When Ian and Callie return to Jupiter to find a cure, they discover that the secret may be found in the Book of Ganymede.
But now, the book is missing. Left with no answers they are forced to face a painful truth. Ian is dying.
Where to buy: Amazon / Barnes & Noble / iTunes / 24Symbols / Kobo / Scribd / Smashwords / Playster/ Google Play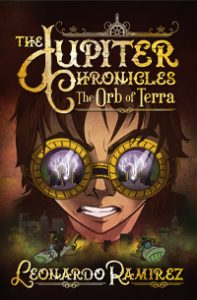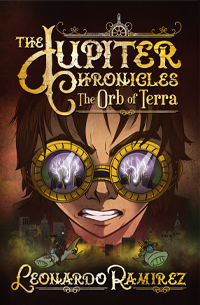 Book 3
Will Ian's quest to find his destiny away from Jupiter lead to Earth's untimely demise?
As he struggles with his identity, Ian Castillo helps one of Earth's greatest scientific minds, Dr. Nikola Tesla, make the scientific discovery of a lifetime: a strange mineral that can perhaps power our world for years to come! They discover it is not just an energy source, but something much more! When the device powered by the mineral is activated, it awakens a sleeping giant buried under the Earth by the Martians generations before. The beast known as "Gigantes" leaves behind a trail of destruction and calls out to a deadly enemy headed for Earth. And the secret inside the mineral will change everything for Earth and the entire Jovian Realm…forever.
Where to buy: Amazon / Barnes & Noble / iTunes / 24Symbols / Kobo / Scribd/ Smashwords / Playster/ Google Play

I have to give a massive shoutout to Mike Halsey, Eve Milady and Benjamin Fosselman. Their artistry and friendship has been a huge inspiration to me and I could never thank them enough. Very much looking forward to continuing with them in the years ahead.
Chat soon!
~Lenny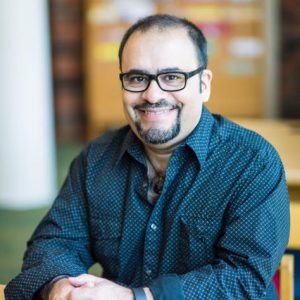 Leonardo Ramirez is an author of Science Fiction and Fantasy. He is also a husband, father and a 4th degree Black Belt in American Karate as well as a brown belt in American Bushido Kenjutsu which is the study of the Katana sword. You can visit his website, Science Fiction for the Human Condition at Leonardoverse.com. His books are available for purchase on Amazon, Barnes & Noble and other retailers.