I know this may be somewhat out of the ordinary of what I typically blog about but I really enjoyed doing this. For those of you with tons more experience in DIY projects, this may seem a little simplistic but again, I had fun. This DIY project solved a problem we had (which I'll explain) and since I've never posted a Pinterest pin of my own before, well…here it goes.
We had gotten a really good deal on a canvas piece that we really loved, but hadn't thought about how the gold in the image would blend in to the wall. Therein was the problem. Take a look.
So I measured the outer edge and added 3″ for the border all the way around. Then I went to Home Depot and got some 1″x 6″.
I painted one side of the boards with a Valspar Bungalow Blue. Then, flipped the pieces upside down and plated the four of them together. I wanted to make them run around the edge and not be a square. As you're drilling in the plates, drill the screws at a slight angle towards the center of the board to tighten it up. Muy importante!
Below is what it looks like finished. Those are not my socks.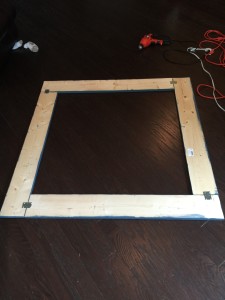 I then turned it over and measured the center to where I would hang the canvas. Drill a screw into your center hole. Notice the aforementioned "run" I was talking about earlier. It's not boring with two and two equal sides.
Next, measure where you want to center your image but be sure to line these up with your studs. As a side note, sometimes regular stud finders don't work on fresh paint. So what worked great for me was a magnetic stud finder. It simply attaches itself to the nails in the studs. From there you can gauge where your stud is by tapping on either side. Put a piece of masking tape on the nail and soon you'll have a diagram of the inner workings of your walls. This won't work on emotional walls though. That's something different. Sorry, I can't help myself sometimes. Stuff just spills out.
Hang your canvas and…..problem solved! See how it brings out the blue of the image without washing the canvas out from the wall? From there, the wifey will add some blue pillows and a blue rug to even it all out.
Whaddaya think?
Like I said, I had fun doing it. Hope this helps. Ok I'm done here. I have to go help my brown-eyed girl with her Spanish homework.
Chat soon!

Leonardo Ramirez is an author of Children's Steampunk, YA Speculative Science Fiction and a graphic novel. His website, Science Fiction for the Human Condition can be found at Leonardoverse.com.