Some years ago, I entered a contest put on my Platinum Studios which would award it's winner a contract with their publishing arm. The property was what became the graphic novel, Haven. If you're not familiar with the property, you can find out more by clicking here.
I've told the story before about how it started out as a prose novel when Markosia Enterprises took notice of it and wanted to produce it as a graphic novel. But between the time I had written the treatment and the time Markosia took interest, I had entered it into the aforementioned contest. Unfortunately, it didn't win but that's OK. What I did win in the process was an awesome friendship that has lasted years with who was one of the top dogs of Platinum Studios at the time, Dan Forcey. If you don't know Dan, he's a Co-Producer of Cowboys & Aliens. Dan's been an awesome source of encouragement for me over the years and loves the property.
So do I.
I'm not trying to sound like an egomaniac but like most writers I do pour out my heart and soul into a project so that it is relatable and has depth, purpose and in this case, history. The Dante's history span centuries so this is a story that could go on forever. And there is still lots of story to tell. As with all new properties, it's a tough sale….especially with a female protagonist. Don't ask me why, you'd be preaching to the choir about that one.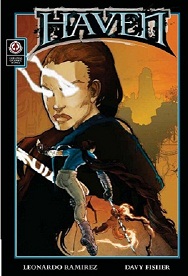 After it's initial release as a graphic novel through Markosia I struggled to gain an audience for it. I remember sitting in my favorite comic book store here in town and watching as folks came in to get what they wanted (the staples) and would not even look at me. Another comic store in town would not even carry it and to this day I don't know why. I do remember the young snippy lady pretty much hanging up the phone on me. It's tough to compete with DC and Marvel (especially now) but I tried everything I could. The SciFy series, Haven based on The Colorado Kid by Stephen King killed the chance of this character appearing on the small screen. I even offered to change the name but no dice.
It's not all been painful though. I've learned a great deal and I've met some very cool people who I love dearly who have supported me every step of the way. For them I am eternally grateful. If there is ever a movie made based on any of my properties, they are the stores I would revisit. Outer Limits Comics, Fairytales, and East Side Story, you are my heroes. Chuck at East Side Story sends me a note every time he sells a graphic novel with a story about the people who bought it! I love it!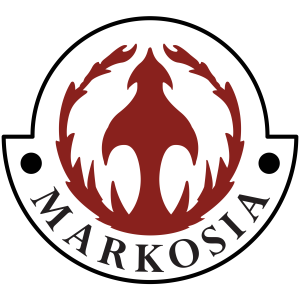 Soon after I released, Haven of Dante as a prose which I immensely enjoyed writing.
Now, I'm not sitting here whining about how tough things are. I'm really not. I love a good challenge. But the bottom line is that it takes money to publish work. And when you don't have it coming in well that makes things a tiny bit difficult to continue. So I've moved over to other properties that I equally love and have found some traction on but Haven will always be a property that I carry in my heart forever. And perhaps some day I can return to that world of monsters and powers that influence society at every level.

So with that, I leave you with the new Facebook Page.  Go check it out now and give it a like. Share the love, read the book, write a review. Perhaps we can give Haven new life again.

When you do, please be sure to click on "get notifications" and "see first" so that we can better stay in touch. Thank you!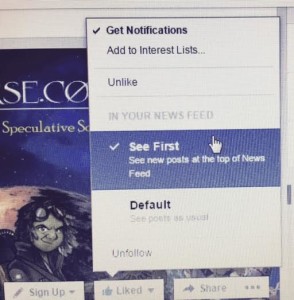 Chat soon!

Leonardo Ramirez is an author of Children's Steampunk, YA Speculative Science Fiction and a graphic novel. His website, Science Fiction for the Human Condition can be found at Leonardoverse.com.