The "Buy a Book Feed a Family" Campaign has reached its goal thanks to the generosity of its supporters. With this support, we'll be able to publish THE ORB of TERRA, the third book in THE JUPITER CHRONICLES series. Stay in touch for updates on the release of the book.
But this is just beginning.
What happens now?
Because we were able to reach our goal, our campaign will remain on the Indiegogo site for as long as we need it to. This means we can keep the campaign going with new perks, updates and a new goal…

We will work to raise funds to produce an animated pitch reel that Mike Halsey can use with major networks. He'll do this using his connections through Magnetic Dreams. So in the coming weeks, we'll be introducing the new perks in a careful and methodical way as to maximize the benefits to you as our supporter. For now, you can visit the campaign and take advantage of the perks still listed. Scroll down to see the the campaign.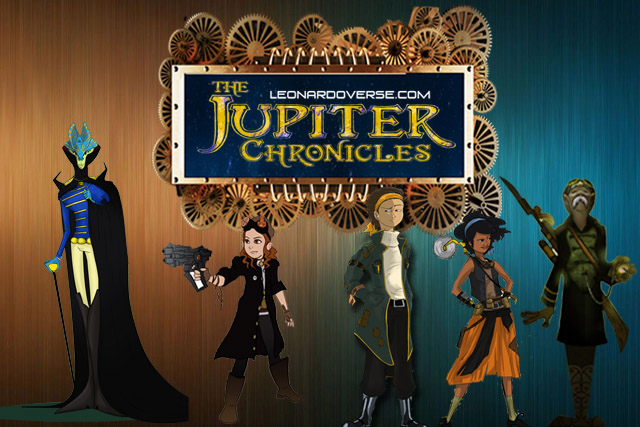 The timeline of the story behind the pitch (before or after the book series) has not been determined yet but we will keep our supporters updated first with news as we get it. Up to this point, the books have focused solely on the main three characters (Ian, Callie and Nomi). But this is not just their story. These are the Jupiter Chronicles, after all. So I intend to tell stories involving other characters and worlds within the Jovian Realm (much like the Green Lantern Corps).
THE JUPITER CHRONICLES is a Science Fiction book series that begins when a young brother and sister discover the secret of the missing father. An ancient telescope transforms into a vessel that rockets them to the steam-powered world of Jupiter where "skyrockets" soar the skies and "doomslayers" rule the night.

Who is this written for?
Readers grades 3 and up.
Growing up in a single-parent family, I had to endure living in extreme poverty. The book series is a hope to kids in those circumstances to strive to do their very best and above all, dream and work towards a better future for themselves.
Lovers of Science Fiction! Themed like the old Flash Gordon serials, THE JUPITER CHRONICLES takes readers of the books to other worlds in steam-powered ships fighting Doomslayers and taking to the skies in Fireflights!
Who's Making It?

Author, Leonardo Ramirez is an author, husband, a father, and a Karate instructor with a 4th degree black belt. His first graphic novel, Haven, is a supernatural Young Adult story centered on an ancient war between the Dante family and the nine circles of hell. Haven of Dante was released later as a prose novel. His follow up is a Children's Science Fiction book called The Jupiter Chronicles: The Secret of the Great Red Spot. It follows the adventure of two children as they are transported to the steam-powered cities of Jupiter, find their long-lost father and stop an attack from Mars.

Mike Halsey – President, Magnetic Dreams Animation Studio – founded Magnetic Dreams in 1992 . Mike has produced animation for Marvel Comics including Iron Man: Extremis and Thor & Loki: Blood Brothers. To find out more about Magnetic Dreams, visit their website at http://MagneticDreams.com.
I also did a feature page on MG which you can see here: http://leonardoverse.com/partnership/
Ways You Can Help
Sign up for updates by subscribing to our newsletter.
Share this page to your Instagram, Facebook, Twitter and Pinterest accounts.
If you'd like to donate now, click on the donate button below:
Or you can donate to the campaign…
And that's all there is to it!

So what are people saying about THE JUPITER CHRONICLES?
Readers' Favorite
FIVE STARS! *****
Fast paced and an engaging read. The transformation of the telescope into a space ship and Ian and Callie's trip to Jupiter will really thrill young readers. The presence of steam engines, gadgets, and planet Jupiter makes it a fun story. Ian and Callie are developed well. A simple story with a science fiction theme that is intriguing.
The author has done an excellent job and the 'Jupiter Facts' at the end of the book are very informative for children. A thrilling science fiction story filled with excitement and mystery.
Science Fiction and Other ODDyseys
It's Steampunk and Star Wars for adventure-loving kids! –Ann Wilkes, Science Fiction and Other ODDyseys
Xarrok Recommends Mr. Ramirez demonstrates he has truly found his talent and voice with this incredibly well-crafted book. This is the kind of book that gets the imagination moving at any age, making it perfect for children –Catrina Taylor, Xarrok Recommends