Hey Peeps:
Hope you're all doing well. Just wanted to send a quick update on book 3 of THE JUPITER CHRONICLES and were I am in the process. But first, here's how you can help me out before I finish the thing.
 Buy the books. Why, you may ask? Because producing books costs money.  I have to pay the editor. You don't want your kids mixing words like comprehension with constipation right? Also, I have to pay a cover artist.  You don't want a book cover that looks like this, do you?

No, you want more of this…

Tell your friends to buy the books.  THIS IS THE BIGGY! Post it on your facebook page. And by 'it' I mean my author page which you can find here: http://bit.ly/AmazonAuthorPageRamirez  Can you tell I'm at the begging point, yet? Just say something silly like, I like this guy, read his books. And then post the link right next to it. Look, it's easy. I'll even type it out for you.  I like this guy. Read his books: http://bit.ly/AmazonAuthorPageRamirez
Like "The Jupiter Chronicles" on Facebook. Like….now. http://wwwfacebook.com/jupiterchronicles
Suggest the page to your friends.
Have I mentioned, buy the books? If you don't have kids buy, Haven of Dante. It's heavy stuff and not for your average bear.
Write a review! There's nothing better than word of mouth!
Anywho, on to the update.
I'm putting the outline together and once that's done I will begin filling in the holes. It's a fun series that I hope those of you have started reading it have enjoyed as much as I have writing it. I love it when characters get to a point where they have a life of their own and I'm simply along for the ride.  Oh, and speaking of book three, below is a working synopsis. There may be some minor things that will change but you get the gist of it.
Oh and btw, this is not the cover.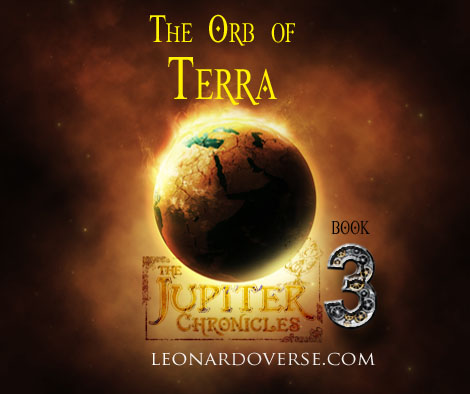 BOOK THREE of a Children's Steampunk Series
The development of the Tesla Coil has ignited a new era called "Steampunk". Dr. Nikola Tesla has built Earth's very first orb designed to serve as a source of energy. Steam-powered ships now adorn Earth's skies and robots have begun their toil in the service of man.
But when the orb is awakened, it activates a sleeping giant buried under the Earth by the Martians hundreds of years before. As the Spectre begins its search for the "Mist" it leaves behind a trail of destruction and calls out to an even deadlier enemy headed for Earth.
As you might be able to tell, some of the story happens on Earth. So how does that affect the Jovian Worlds? You'll have to read to find out. ;o) To those of you who have supported me in the past, thank you so, so, so very much. You know who you are. And yes, I  know you by name.
So please, share away and sign up for updates on my website.
Chat soon!

Leonardo Ramirez is an author of Children's Steampunk, YA Speculative Science Fiction and a graphic novel. His website, Science Fiction for the Human Condition can be found at Leonardoverse.com .