An adventure it was indeed!
This weekend we got to be a part of history at the Adventure Science Center. Through fellow author, Sharilyn Grayson, we met Janet Ivey of Janet's Planet. She kindly invited us to participate in their Solar Eclipse Festival for a once in a lifetime event. She also invited us to share The Jupiter Chronicles with attendees. What a joy that was.
They came from every walk of life to share the adventure.
A ton of people came by our table. Many of them were kids that were amazed by the steam cannon we displayed and yes, touching the cannon was allowed! Kids love to play dress up so we took some props with us and they did all the posing. We got to meet other authors, scientists, astronomers and even a giant robot!
The neat thing about attending events like these is that we always come away with ideas on how we can improve our presentation and make things more interactive and fun. We'd love to build a giant doomslayer suit for some poor soul to shed some pounds in as he walks around mingling with folks. Hopefully, we can make that happen.
Our next event is in February, 2018. If you're in the area, please stop in!
Con Nooga: February 23, 2018 – February 25, 2018
Con Nooga is Chattanooga, TN's largest Multi Fandom Convention covering everything from Anime, Comics, Authors, Artists, Music, Science Fiction, Horror, Cosplay, Costuming, Fantasy, British Media, Gaming, Paranormal and so much more! Over 160,000 Square ft of Fandom Fun! Join us on at The Chattanooga Convention Center on February 23rd through the 25th, 2018.
For more info, visit Connooga.com
Chat soon!
~Lenny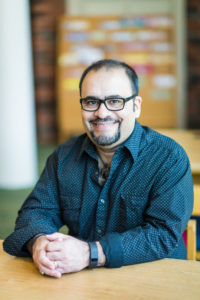 Leonardo Ramirez is an author of Science Fiction and Fantasy. He is also a husband, father and a 4th degree Black Belt in American Karate. You can visit his website, Science Fiction for the Human Condition at Leonardoverse.com. His books are available for purchase on Amazon, Barnes & Noble and other retailers.
[mc4wp_form id="5755″]