I find it utterly tragic that out of our daughter's closest friends, she is the only one whose parents are still together. Sure I'm happy that my wife and I are still together but my heart deeply grieves for these kids who are being tormented at such a young age.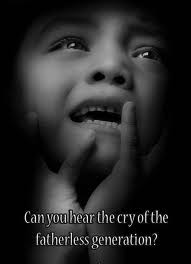 My parents divorced when I was 7-years old. That means that by the time I was in the 2nd grade I knew what it was like to have a dad around the house. I knew what it was like to get Christmas presents under the tree that weren't used or someone else's present before they reached me. I knew what it was like to wake up in the morning to the smell of my dad's after-shave as he got ready to go to work and I knew what it was like for him to teach me how to ride a bike and talk to me about the lessons in life. We weren't rich but I was in a private Lutheran school. I knew I was loved there.
Then all of the stability that I had come to know was gone in an instant. When my father walked out the door so did my heart, my home, my security, my knowing that I was loved. I don't blame him anymore. It was both of their faults. We went from a sense of stability to constantly moving from place to place and never settling until well into my high school years and even then our family was ripped to shreds. We were dirt poor. We were on welfare and food stamps. We couldn't afford decent clothes and I couldn't get a decent haircut. I was so ashamed of who I was. After I graduated from high school a family took me in for a summer and bought me clothes. You'd thought I had died and gone to heaven. Once I was even homeless and lived in a church with no hot water.
Ever notice how some things cascade?
My mom was too focused on her pain to make her life better. I admire these moms that try their best to keep it together after their loser husbands cheat and run. They do an amazing job of raising their families on their own. My mom did the best she knew how despite the physical abuse.
Dads, your affair doesn't necessarily have to be with another woman.
Your affair can be with yourself.
Your affair can take hold through selfishness and callous want for something that will never bring you true joy. It can be an obsession. It can be with the need to be right or admired. It can be with a ridiculous pipe dream that was never meant to take the place of family.
There are times when I'm holding my wife and daughter close and can't imagine falling asleep under another roof. The very thought sends a chill down my spine. I don't want to miss one second of their lives so much that sometimes I hate even coming to work.
So dads, think of all of these things as you have your stupid affair because the hell that you're putting your family through is not temporary.
It lasts forever.
Be a man. Stay home.
Leonardo Ramirez is an author of Science Fiction and Fantasy. Visit leonardoverse.com for info! Jupiter Chronicles is available in paperback now. Click here to buy and thank you for your support!